'Allo 'Allo! - Series 5 - Volume 1 [1988] [DVD] DVD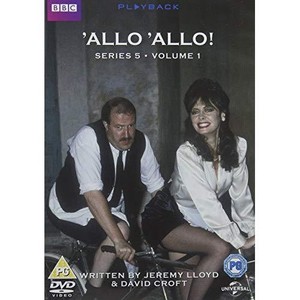 ---
Title: 'Allo 'Allo! - Series 5 - Volume 1 [1988] [DVD]Label / Manufacturer: Universal Pictures UK
| | |
| --- | --- |
| Music Format: | DVD |
| DVD Format: | Colour |
| DVD Audience Rating: | Parental Guidance |
| DVD RegionCode: | Region 2 |
| Label / Manufacturer: | Universal Pictures UK |
| Number of Discs: | 2 |
| Dimensions (LxWxH): | 7.56 x 5.43 x 0.47 (inches) |
| Catalogue number: | 5050582445572 |
| EAN: | 5050582445572 |
| Release Date: | Oct-23-2006 |
This DVD is UK-origin Region 2 (Two), so in Australia will require a multi-region DVD player or DVD computer drive in order to view. The disc will almost certainly be in PAL video format. If living outside Australia please check your hardware is compatible prior to purchasing. This will not be compatible in North America.
Customers within Australia: Shipping flat rate AU$3.50 to any address. Your package will be securely handled & posted from England via Priority Airmail, which is air freighted to your closest Australia Post distribution center (Sydney, Melbourne, Brisbane, or Perth), from where they are delivered to your address by Australia Post. Due to our listings requiring immediate PayPal payment, we cannot combine postage costs across different items.
International customers outside Australia: Listing currency is Australian Dollars (AUD), shipping flat rate AU$5.50. Orders to international addresses are dispatched from the United Kingdom. Delivery time: New Zealand, USA, Canada, Japan (all 7-14 days), all other Rest of World 10-28 days by Priority Airmail. New Zealand orders are split to Auckland and delivered by NZPost.